Catering Booklet
Club Bylaws
Royal Palm Yacht & Country Club
2425 Maya Palm Drive West
Boca Raton, FL 33432
Phone:
561.395.2100
Fax:
561.395.3612
Reservation Line:
561.395.2200
Royal Palm Members enjoy a variety of dining experiences, from casual to elegant, all offering personalized service. Chef Thomas and his culinary team are passionate about providing innovative cuisine using the freshest ingredients and flavored with herbs from our own garden.
Dining Reservations
Fitness Brochure
Personal Training
$70/30 minutes
$90/55 minutes


Yoga/Pilates
60/60 minutes
(Duet) $40/60 minutes per person
Pilates Training
$50-$60/30 minutes
$80-$90/60 minutes
(Duet) $60/60 minutes per person
FCYC Website
"The redesign of Royal Palm was very rewarding. We were able to create an entirely new course that offers challenge for all levels of play. The 7,003 yards from the back tees will test any professional or amateur." - Jack Nicklaus

Originally designed in 1959 by Robert Trent Jones, Sr., our private golf course in Palm Beach County evolved under the supervision of Joe Lee and underwent a dramatic change, affording Royal Palm the distinct privilege to enjoy one of the few Jack Nicklaus Signature Golf Courses in South Florida.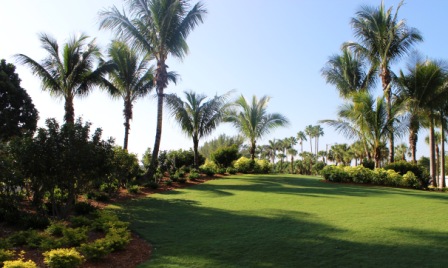 In 2013, Royal Palm Yacht & Country Club welcomed Mr. Nicklaus back to his course, seeking advice on the re-grassing and renovation which began in 2014. With his full support, the Club completed of the project including installation of Celebration Bermuda on our tees, fairways, rough and green surrounds and re-grassing the greens with Tiff-Eagle. Reshaping and reconstruction of the bunkers as well as modification to some of the greens was endorsed by Jack Nicklaus Design and ensured that our course remains a world class experience for golfers of any level.
Blue lakes and water features, including marshy wetlands filled with aquatic plants, strategically placed bunkers and smaller, well protected greens are not the only challenges awaiting the golfer. Large waste areas have been carved between several holes, creating a new dimension of risk and adding to the visual relief of the emerald green fairways.
The par fives are very much risk/reward and because of the inclusion of five sets of tees it's very playable no matter what level of golfer steps up the tee. Forward tees play just over 5,000 yards and championship tees play just under 7,050 yards.
There are no forced carries anywhere on the course and while many of the greens have adjacent hazards, Mr. Nicklaus gave the higher handicapper a bail out area next to the green so that a 150 yard shot over water is not so intimidating (honestly!).
Frustration is just a wandering tee shot away but landing areas are ample. If you find water or sand, you asked for it. Second shots, both on par fours and fives, are radically more serious. Deep bunkers, water hazards and collection area stand sentinel to push your fortitude.
The fourth hole epitomizes this design. A mid-length hole with an ever-so-slight elbow right, the only danger off the tee is a large trap at the corner. Blame only yourself if you find this sand. Blame Jack, if your incoming shot sinks into the lake short and left of the green or the bunker above the hole on the right, or comes up just short and rolls a bit back toward you.
Among all of Boca Raton's private golf courses, our course is both challenging yet enjoyable. Learn more about our yacht and country club membership or take a virtual tour of our private golf course.
Visit the Jack Nicklaus Museum »
Photos by Jim Mandeville
Reciprocity
We are pleased to offer reciprocity to Florida Council of Yacht Club Members. We offer dining, fitness, pool and dockage privileges. We always looks forward to meeting fellow FCYC members!
Guests
Our Club Member's families are always welcome, and enjoy the same membership privileges as the Member. Some restrictions do apply, so please contact the Club to find out the finer details.
Dining Venues
Royal Palm offers a variety of great dining experiences and options.
Golf Clubhouse
Enjoy a leisurely lunch with friends in the Palm Room or the Terrace, both overlooking the 18th green. Grab a delicious and quick "golfer's lunch" in the 19th Hole. Partake in the sandwiches and salads in the Halfway House as you make the turn. The Nicklaus and Snead Rooms offer intimate private dining spaces.
Our Executive Chef and his culinary team prepare dishes from around the world using fresh ingredients, flavored with herbs from our own garden. Choose the perfect wine from our extensive wine list to complement your selection.
Poolside Dining and The Office
Take a dip in the pool and have a casual lunch or a couple of cold beverages poolside on Saturday and Sunday afternoons.
Speaking of a cold one, "The Office" at the marina is the best place to unwind after a hard day on the course or on the boat. In season meet your friends down by the water Thursday through Sunday- come as you are!
Dress Code Rules & Regulations
Dining Areas
| | | |
| --- | --- | --- |
| Harbor Grille | | RP Casual |
| Commodore Room | | RP Casual |
| 1959 | | RP Refined |
| Fahrenheit | | As defined by Club event promotion |
| The Chart Room | | For Club events, the dress code will be as defined by Club event promotion |
| 19th Hole | | RP Casual |
| Palm Room | | RP Casual |
| Snead Room | | RP Casual |
| The Office | | RP Casual |
General
Members are expected to exercise good judgment with regards to appropriate attire. Members are responsible for their guest's adherence to the Dress Code. The Club's Dress Code is mandatory and Members and guests will be denied access and/or service if improperly attired. If a Member is in doubt concerning proper attire policies, check with the Club manager on duty. Dress standards may be waived from time to time to accommodate a special activity or function. Planned events varying from the standard Dress Code will be published along with the event notice to Members.
Royal Palm Casual
Men: Collared shirts or appropriate sweater, slacks, golf shorts or croquet attire (please see Rules 2.4 and 2.6), denim (without tears, tatters or frays). Tee shirts, sandals (including flip flops), and hats for men are restricted to the outside dining areas.
Women: Appropriate blouse or sweater, dresses, skirts, slacks, proper golf or croquet attire, denim (without tears, tatters or frays).
Royal Palm Refined
Jackets, collared shirts and slacks for the gentlemen. Denim (without tears, tatters or frays) is permissible. Shorts are not acceptable. Appropriate comparable dress attire for ladies.
Children
The Dress Code applies to children 13 years of age and older. Parents are responsible for the proper attire of children under the age of 13.
Unacceptable Attire
The following attire is never acceptable in the Country Club, Yacht Club or Golf Course (with the exception of the locker rooms to change).

Unacceptable Attire in Buildings: Cut-off or frayed denim, revealing shorts, crop tops, tank tops for men. Men should remove hats when entering indoor facilities of the club.

Unacceptable Attire for Indoor Dining Areas: Includes the above, as well as: sweatpants, basketball (knee length nylon) shorts, t-shirts, workout shorts and baggy cargo shorts with protruding outside pockets (not flat stitched to the material).
Croquet Dress Code
Players must wear proper croquet attire during tournament play, which is defined as flat rubber sole shoes and croquet whites. During Non-tournament or casual play events, colored shirts with collar are permissible.
Fitness Dress Code
Members and guests must wear appropriate fitness or exercise apparel and footwear. Cut-off shirts and shorts are not permitted. Exposed and/or wet swimsuits, sandals, street shoes and denim are not permitted in the exercise room. When entering the Fitness Center from the pool, bathing suit cover-ups and shoes must be worn.
Golf Dress Code
Men: Shirts with collars and sleeves (mock necks are acceptable), slacks, golf shorts (no cargo pants). Shirts must be tucked in and hats, if worn, must be facing forward.

Women: Dresses, skorts, skirts, slacks, golf shorts and blouses. Golf shirts may be sleeved or sleeveless with a collar or sleeved without a collar.

Unacceptable Attire: Athletic shorts, crop tops, tee shirts, sweat pants, denim, tank tops, cargo pants.

Shoes: Appropriate golf shoes with non-metallic spikes (soft spikes) or appropriate soft-sole shoes are required on the golf course and practice areas.

This dress code is mandatory for all players. Improperly dressed golfers will be asked to change before playing. If you are in doubt concerning your attire, please check with the Golf Shop before starting play. Any misuse or disregard of these rules may result in the suspension of golf privileges.

The above requirements are dress codes for both the golf course and practice facilities.
Tennis Dress Code
Players wear is limited to customary tennis shorts, warm-up suits, sweaters and tennis shoes. Any Royal Palm logo shirt or competitive brand tennis shirts is acceptable. Collared shirts are preferred. Swimwear, non-tennis tee shirts, running, fitness, or other athletic apparel or footwear is not permitted. Tennis attire and shoes are required at all times for Members, family and guests.
Unacceptable Attire:Swimwear, non-tennis tee shirts, running, fitness, biking clothing and any footwear other than tennis shoes are prohibited.
Marina Dress Code
Members, crew and service personnel must be appropriately attired at all times.
Swimming Pool Dress Code
Appropriate swim attire. No thongs or revealing suits. When entering any Club building or outside dining area, bathing suit cover-ups and shoes must be worn.
Guest Policies
Privilege limitations apply to Guests regardless of the hosting Member. The hosting Member must provide the full name of each Guest for use of golf, tennis, fitness, card rooms and croquet. There are no dining privilege limitations for accompanied guests.

Members are responsible for their guests' behavior and adherence to Club rules, regulations and policies, including dress code and cell phone policies.

The term "Membership" includes the Member, Spouse (Designated User) and children under the age of 24 residing with the Member. All other individuals are "Guests" as defined in 3.1

Out of Town Family Guests visiting for a temporary/limited period of time will be issued Guest Cards.
Definitions
Local Family Guest
Parents, grandparents, children (other than those included in "Membership" as defined), grandchildren, siblings and in-laws (parents/siblings) who reside within Palm Beach, Broward, Miami-Dade or Martin Counties.
Out of Town Family Guest
Parents, grandparents, children (other than those included in "Membership" as defined), grandchildren, siblings and in-laws (parents/siblings) who reside outside of Palm Beach, Broward, Miami-Dade or Martin Counties and are visiting on a temporary basis.
Local Guest
Those individuals residing in Palm Beach, Broward, Miami-Dade or Martin Counties.
Out of Town Guest
Those individuals who reside outside of Palm Beach, Broward, Miami-Dade or Martin Counties and is visiting on a temporary basis.
Access
Accompanied
The hosting Member must accompany Local Family Guests, Local Guests, and Out of Town Guests at all times. Members are responsible for the conduct of their guests and for guest fees as well as all related charges. Guests are expected to conduct themselves in a similar manner as Members as well as adhering to all Club Rules, Regulations and Policies.
Unaccompanied
Out of Town Family Guests may be unaccompanied, but must have in their possession a Guest Card acquired by the hosting Member. Guest Cards may be obtained at Reception, the Membership Office or the Fitness Center and are the responsibility of the hosting Member.
Other
A single Member with no Designated User may bring an unrelated guest without paying fees, limited to one visit per month.
Privileges
Local Family Guest
An accompanied Local Family Guest may use golf, tennis, fitness and croquet no more than twice a month from November 1 - May 31, not to exceed 14 times aggregate in a calendar year.
Out of Town Family Guest
For out of town family guest, a "Guest Card" may be issued for the duration of a stay up to 14 days. The Guest Card may be renewed upon request. Guest Card privileges shall not exceed 30 days aggregate in a calendar year. Out of town family guests May be unaccompanied.
Local Guest
An accompanied Local Guest may use golf, tennis, fitness and croquet no more than once a month from November 1 – May 31. In any event local guest privileges are not to exceed 12 times aggregate in a calendar year.
Out of Town Guest
An accompanied Out of Town Guest may use golf, tennis, fitness and croquet no more than 14 times from November 1 – May 31. In any event out of town guest privileges are not to exceed 20 times aggregate in a calendar year.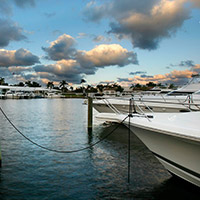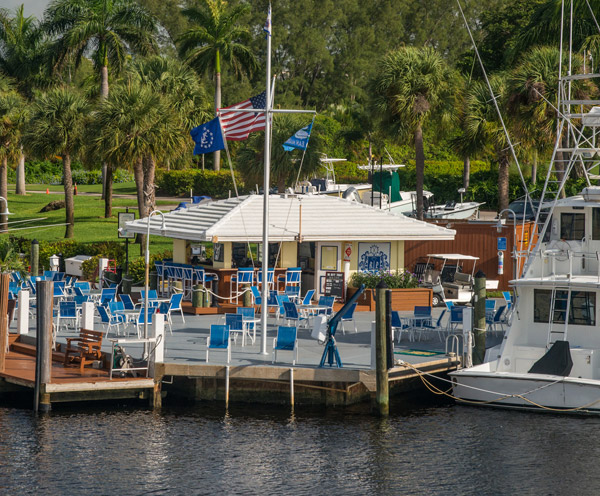 Royal Palm Yacht & Country Club enjoys a rich heritage as one of South Florida's premier private clubs and offers members an unusual level of camaraderie, diverse facilities and a wide-range of activities to celebrate friendships and a deep sense of community. The redesign of Royal Palm was very rewarding. We were able to create an entirely new course that offers challenge for all levels of play. The 7,003 yards from the back tees will test any professional or amateur. Situated in a safe and well-protected bay, with ocean access only minutes away, the Royal Palm Yacht Club provides first class service to its yachting members. The Marina can accommodate vessels from 18' to over 100' and provides full-time concierge services along with reciprocal privileges at 35 other private South Florida yacht clubs. Our Executive Chef and his culinary team prepare dishes from around the world using the freshest ingredients, flavored with herbs from our own garden. Royal Palm's approach to fitness is much more than building strength or burning calories. Our Seven Dimensions of Wellness program is an all-encompassing philosophy of health for life. Sprout, our Junior Palmer's mascot, leads the way to all the fun year-round events and family activities at our South Florida clubhouses. With sports clinics, day camps, Kids' Club Rooms, holiday and birthday celebrations, there's always something fun happening for our Junior Palmers!
November through April
Mondays and Wednesdays 4:30 pm - 5:30 pm
Saturdays 1:00 pm - 2:00 pm
$18 per child
Children of all abilities, ages 5 and older, are encouraged to participate in our Junior Golf Clinics. They will be taught the fundamentals of golf through drills and games with an emphasis on technique and fun!
(Year Round)
Children and Teens that have shown a sincere interest in the game of golf are encouraged to take private lessons in order to bring their skills to the next level. Our instructors are certified PGA Professionals and have the ability to give one-on-one critique and analysis to build a personalized improvement plan.
www.rpycc.org
Royal Palm Yacht & Country Club has a rich heritage and our members enjoy an unusual level of camaraderie, diverse facilities and a wide-range of activities to celebrate friendships and a deep sense of community. Our calendar and annual events are designed not only for a fun-filled season, but also for many of our members who are year-round residents.
Our yacht basin, situated in a safe and well-protected bay, with ocean access only minutes away, provides an ideal location for the casual boater and yachtsman alike.
Accommodating vessels from 18' to over 100', Members enjoy our full service Marina and are assisted by our Dock Master and staff with all of their boating needs.
Description

55 Minutes


70 Minutes


85 Minutes

Swedish Massage

$65
$90
$115
Long relaxing strokes, with light pressure applied to the
muscles following the same direction as the flow of blood
returning to the heart. Alleviates sore muscles, increases
flexibility and promotes general health and wellbeing.

Neuromuscular Massage

$80
$100
$120

Also known as trigger point or myotherapy, concentrated
pressure is applied to tight muscles or spasms to relieve
pain and tension. It is effective treatment for back pain
and sciatica nerve pain. Recommended for people with
consistent pain and athletes.

Hot Stone Massage $100 / 50 Minutes


Smooth, stones are heated to penetrate the muscles so
the therapist can work more deeply to relieving tight,
sore muscles and promote deep relaxation.


Signature Massage

$90
$115
$135
Three massage techniques are chosen and incorporated
into one massage creating the ultimate healing and
relaxing massage.


Golfer's Massage
$90
$115
$135
Golfer's massage helps to alleviates neck & shoulder pain
and tightness. It increases range of motion, allowing for
a more efficient backswing. It relaxes the hip and low back
muscles for increased rotation and weight shift throughout
the swing. Regular maintenance of massage can improve
your game and reduce your risk of injury.


Reflexology $25 / 25 minutes or $80 / 55 minutes
Reflexology is similar to acupuncture/ acupressure. It can
be applied to the feet, hands and ears to relieves tension,
improve circulation and help promote the natural function
of related internal organs.


Shiatsu Massage
$80
$100
$120
Shiatsu is a Japanese massage using applied pressure,
stretching, holding on specific points on the body and
rocking to relieve joint problems and tight muscles.
This massage is done clothed on a massage table and is
deeply relaxing and encourages your body to function
better.


Prenatal Massage
$80
$100
$120
Pregnancy adds extra pressure and strain on your body.
A prenatal massage will ease join and muscle pain, soothe
overworked muscles and improve circulation. Pillows are
placed for the comfort of mommy and baby.


CranioSacral Therapy (CST)

$80
$100
$120
This holistic healing practice uses a very light tough
to balance and release restrictions in the soft tissues
that surround the central nervous system. This
therapy can be used to relieve headaches,
neck and back pain, and fatigue. It also helps
to strengthen the immune system.



Manual Lymphatic Drainage (MLD) $85/50 minutes

Help your body rid itself of bacteria, viruses and
other debris with this relaxing and gentle rhythmic
massage. MLD promotes healing, prevents illnesses,
reduces inflammation, water retention, swelling
and pain during pregnancy, helps to heal burns,
and restores balance so that your body can more
effectively heal itself.

FACIALS
Signature Facial $95/60 minutes
Our signature spa facial is tailored to your individual needs and will enhance your skins tone and texture for a dewy, glowing complexion. Your aesthetician will relax you further with a neck, chest, shoulders and hand massage. This facial is appropriate for men and women of all skin types.
Gentlemen's Facial $95/60 minutes
Most men need some time at the spa for a little R & R and extra pampering! Our Gentlemen's Facial begins with a skin analysis followed by a deep cleansing, exfoliation, steam, extractions, and mask. Guaranteed to soften, soothe and smooth even the roughest mug. Therapeutic massage is incorporated into the treatment.
Tween & Teen Facial $75/60 minutes
Start your child on the path to proper facial hygiene and prevent breakouts and problems before they start. Guidance and tips will be discussed to teach the importance of preemptive skincare.
Back Treatment $95/60 minutes
We got your back! This is the perfect spa treatment for those who workout regularly or simply can't reach their back to cleanse properly. Exfoliation, extractions, mask and moisturizer is applied to give you and give your back youthful glow.
A Club for a Lifetime.
Membership by Invitation
The tradition of excellence at Royal Palm Yacht & Country Club continues by maintaining the high standards of quality in our selection process to ensure compatibility of our members. There are no residency requirements for membership and we invite you to learn more about making Royal Palm your club for a lifetime.
Since its recent inception in 2010, Royal Palm's Men's Club has been focused on the task of informing, enlightening and enjoying. By designing a season of activities and events, the Men's Club ensures that current and important topics will inform and enlighten, all while doing it all with fellow club members in a fun atmosphere.
A minimal $100 fee grants access to a year of events, and guests are welcome.
Some Members of our Men's Club Committee with Coach Schnellenberger.
561.395.2100
Royal Palm Yacht & Country Club is striving to be recognized as a Platinum Club by Club Leaders Forum. Platinum Clubs are regarded as America's 200 most highly admired private clubs.
What Makes a Club Platinum?

1. A History of Excellence
The top private clubs have been around for a long time. Many were founded over a century ago. Some, from their inception, and many others through accumulated passage of time, have been recognized by all who know them as being domiciles of excellence. Whether this heritage is perpetuated in a formal mission statement or informally passed along within its membership and staff, it is deeply imbued in the fortunate who belong or work there. The membership and staff alike consider the perpetuation of this history of excellence as a mission.
2. The Quality of Membership
No club can be great without having great members. This means a membership that represents the best qualities of those communities in which the club exists. Acceptance and compatibility transcend all discriminating issues. Members like each other and the staff that serves them. They are knowledgeable about matters that affect the club and treat the facilities as though they were their own - which, in a real sense, they are. Great members care so much about their club that they work hard to attract prospective new members who are equally great.
3. The Condition of its Facilities
A celebrated golf course or magnificent clubhouse by themselves do not make a club great. Rather it is the total array of facilities, their general excellence and fulfillment of member needs in every area of function and activity. These clubs invest on a regular and planned basis in the maintenance, supervision, and replacement of grounds, plant and equipment. They ensure that each piece of equipment and every facility is well maintained. They do not have to be brand new.
4. The Caliber of its Professional Staff
Many is the club with rich heritage and renowned amenities that does not qualify as a great club. Without a staff of equally high quality, such a club is missing on its most important cylinders. This excellence must be as well exhibited by the newest dishwasher or waiter as it is by the club's longest tenured staff. The club will be recognized in its community as a good place to work, where the pay, benefits, environment of work, and job security are attested to as excellent year after year. Ladies and gentlemen serving ladies and gentlemen is a maxim of the finest clubs.
5. Enlightenment and Consistent Governance
Great clubs are led by presidents, owners, and directors who understand that their roles are strategic and policy setting. It is the professional staff that carries out the policies and day-to-day operations. Boards of this caliber work hard at ensuring that there is continuity of effort and direction, term after term. The nominating committee or owner takes their work seriously, ensuring that the best qualified members serve on the board - and that the board itself is broadly representative of the club membership as a whole.
6. Adaptable to Changing Times
As social institutions, clubs themselves undergo change - gradual as they will be. A club that resists this, sometimes because of restrictive bylaws or the resistance of elements on the board or in the membership, will slowly wither and eventually perish as members join more vital clubs or quit. Great clubs work at anticipating their members' - and prospective new members' - needs and interests. Such clubs have a mission statement that says who they are and a strategic plan that says where they want to be. Great clubs view this plan not simply as a document to put on the shelf and refer to periodically but as a road map that they are now moving along.
7. Member Devotion to their Club's Distinctive Culture
Great clubs celebrate their heritage and religiously observe their time-honored traditions. They know that the member/guest golf event is always the third weekend in June, that the general manager gets dunked at the year-end pool party, and that all the ladies at the annual president's ball must be wearing yellow rose corsages. There is pride and togetherness in observing traditions and practices handed down through generations of members - oftentimes the older and more non-sensical they seem, the better. There is a true cult of culture in great clubs and it is stringently observed.
8. A Spirit of Generosity in its Community
Many of America's premier private clubs were founded around a spirit of giving to its community or the nation. This is particularly true of great clubs such as the Union League of Chicago and the Union League of Philadelphia. Others have developed their philanthropic and participatory relationships with cause and community through the caring nature of members and over the passage of time. Their motivations for acts of generosity are not done to generate overt publicity for themselves but in the spirit of genuine care - with as little publicity as possible.
9. Prudent Fiscal Management
No institution of any kind can go through decades and generations without, from time to time, encountering serious financial challenges. Many a great club barely survived the Great Depression or the dues deductibility issue of the late 1980's. Great clubs have had the wisdom to plan well and invest well. Initiation fees go into a capital, not operating fund. Dues and other costs are set to fund operations, improvements, and depreciation, so that member services and facilities are maintained at an affordable and exceptional level. Their boards understand the need for regular dues increases and occasional assessments.
10. Universal Acknowledgement of Greatness
Great clubs are widely known as such by the strata of American society that frequent private clubs and are well traveled. They tout them universally. This perception extends well beyond a club's community or the venue (i.e., a great golf course, etc.) for which it is best known. From time to time a great club will have a poor leader board - or even a bad apple or two in the membership - but the truly great clubs are like great families. They possess the wisdom to progress, cope, and have fun being together. The future for any great club is what it always has been: The ability to attract and retain the greatest new members it possibly can.
Planning a private function?
The Club has several rooms with the flexibility to accommodate events from 30 to 300! Cocktail receptions, special interest groups, small dinner parties desiring privacy or over-the-top weddings – all can be met with our professional staff.
We have a portable six speaker system, portable dance floor, high resolution projector, even an inflatable movie screen. Room capacities are flexible with our movable walls and partition system, as well as multiple entrances to our different rooms.
Golf Clubhouse Room Capacities

Palm Pub - 90 guests seated with dance floor, 120 without staging
Palm Terrace - 50 guests seated, 80 reception style, 100 ceremony
Nicklaus Room - 20 guests seated
Snead Room - 30 guests seated
19th Hole - 70 guests seated, 100 reception style
Please contact the Catering & Social Director, Marla Johnson at mjohnson@rpycc.org or (561) 210-8115, to answer any of your questions.
Do you have a question about fitness or spa services? Call the Fitness Front Desk at (561) 391-7679 or email
fitness@rpycc.org
.
Email
RoboVault
is the future of secured storage. The facility highlights include biometric security features, backup power and monitoring, private drive-in access, Cat 5 Hurricane resistant structure, proven robotic retrieval features, museum-quality climate control, short and long term leases available, conveniently located at I 595 and US 1. Royal Palm Members will have access to discounted rates for storage. This is the first of its kind security storage facility and is perfect to protect your valuables, including cars
Express Facial
$40/25 minutes
Mini Facial
$65/ 45 minutes
Deep Cleansing Facial
$95/75 minutes
Peels
$65/60 minutes
Cosme'canique
$95/75
Seaweed Gel Body Wrap
$95/75
Oxygen Facial
$115/75
Radiofrequency Treatment
$150/75
Microdermabrasion
$75/60
October 2016
Click below for the flipbook!
Fitness Center | May 6, 7, 8
Being a mom can be one of the most rewarding feelings in the world, so to honor the moms of RPYCC, for every service booked on May 6, 7 or 8, we will add a little extra pampering just for you! Receive a complimentary lavender paraffin hand treatment on us!


Club Rules
For over half a century, Royal Palm Yacht & Country Club has been an elegant tradition among the elite clubs of South Florida. Today, it remains one of the few private, by-invitation-only, clubs in the area that is overseen by its members.
Weather
Whether it is a luncheon for three or a wedding for three hundred, let the staff at Royal Palm make the party memorable. For answers to any of your questions, please contact: Marla Johnson, Social & Catering Director, at 561-210-8115 or mjohnson@rpycc.org
WGA Website
We have joined the Yachting Club of America so that you can enjoy these Clubs during your travels. For a complete listing of Clubs go to
www.ycaol.com
and use User Id: club1040 and Password: y100446c
Dockage Fees Reimbursement Policy

Many of our boats will have to find alternate dockage during the construction of the new marina. In order to ensure a slip in the new marina, Members will continue to be billed the regular dockage fees pursuant to the terms of their Dockage License Agreement.
If the member is required to pay for dockage elsewhere as a direct result of having to relocate during the construction, the Club will credit the Member's account for dockage fees up to $13.50 per foot per month. In order to receive a credit, the Member must provide a receipt showing proof of payment for outside dockage. Credit will not be given to Members who do not have to pay for alternate dockage as a direct result of having to relocate. Credit will not be given to Members whose boats ordinarily travel during the summer months and would vacate the Royal Palm Marina as part of their ordinary annual schedule.


February 14, 2015
As you know, we are performing a complete renovation of the North Dock, East Dock and South Dock of our Marina. Our old concrete docks will be replaced with new, state of the art, floating docks with all new power pedestals. This project is anticipated to begin in mid April and is expected to be completed in November.

All permits for the Marina renovation are in to the proper State and Federal agencies. We have received approval from the State and the review by the Army Corps of Engineers and other Federal agencies is progressing as anticipated.

We have applied for a grant from the State of Florida to help fund a new stationary waste pump-out system. The Clean Vessel Act Grant Program, through the Department of Environmental Protection, will reimburse the club for 75% of the costs for installing and operating a centralized pump-out station that will be accessible directly from the boat slips.

We are currently in the process of helping our boating Members find alternate dockage during the construction. Several outside marinas have advised that they will have availability. Some have offered discounted group rates for 5 or more boats.
Our new floating docks for the Marina project have been manufactured and will be delivered in the coming weeks. At this time, we are working on a staging area on the west side of the Dock Office to accommodate our new docks until they are installed.

Our Marina Planning Committee is continuing to meet regularly to discuss the planning and preparation of our Marina Renovation. If you have any questions regarding the project, please feel free to contact me at 561-289-3680 or bgarey@rpycc.org. You may also contact our Fleet Captain, Charlie Zumkehr.

---
November 2014
Work will start soon on our Marina! We are looking forward to beautiful decking and comfortable access for everyone! Below are images of some of our deck cleat options and a view of decking done by the company that will be working on our Marina.
These high-end sterilized serum formulations are made of active ingredients with adjusted pH for the face and body. There's a variety of Fusion serums that help combat:
Expression lines and wrinkles
Anti-ageing
Pigmentation disorders
Revitalization
Skin tightening
Acne, scars, stretch mark
Cellulite
Your esthetician will talk to you and make recommendations to enhance the results of your spa treatments.
Serum Add-On : $15 and up.
Contact Maria at fitness@rpycc.org or (561) 391-7679.

As special guests of the HIllsboro Club's General Manager, you can enjoy the beaches and dining of this wonderful, classic club.
Tennis Programs
As Amended March 2016
We care what you think!
The Dining Experience Survey is just a click away, and we want to hear what you have to say!

May 2015
Click here to view the calendar.
You can always contact the Fitness Center at (561) 391-7679 or fitness@rpycc.org.

Team Tennis Booklet
Boaters' Handbook
The newest addition is Manual Lymphatic Drainage Massage (MLD). MLD is one of those treatments that are overlooked until you have a problem or it is recommended by your doctor or surgeon.
It has been traditionally considered part of complementary and alternative medicine, but it is increasingly being offered at the best spas to aid in the treatment for a wide range of conditions. Whether you have swelling, congestion, want to boosted your immunity, increase your energy, or reduce swelling around injury. It is important to your therapist is trained with the right technique and understands the conditions that MLD can be used for.

Manual Lymphatic Drainage with Carolyn - $85/ 50 minutes
Manual Lymphatic Drainage with Carolyn - $85/50 minutes
Ultimate Body Shaping $225/ 90 minutes
3 to 6 treatments recommended
Do you have areas of stubborn fat that no matter how hard you diet and exercise, just won't go away? Well you're in luck! With the Ultimate Body Shaping treatment you can shrink those stubborn areas without any effort what so ever. This 4 step process takes only 90 minutes.
1. Infrared Blanket speeds up the metabolism, burns calories which leads to weight loss.
2. Cavitation breaks up fat cells with vibration
3. Vacuum Therapy helps move the toxins thru the lymph system
4. Radio Frequency tightens and smoothes the skin
Club Enhancement Proposal 2014
The new assisted chin and dip machines is here!

It's a great way for anyone to get the benefits of doing pull ups and dips with the proper amount of resistance.
We also have new upright bikes and two octane pieces that are being demo'ed. Come by and check them out.

Sunday - June 19

Celebrate Dad and get in a delicious meal before you take off for a day of fun (or relaxation!).
Fathers receive a complimentary Mimosa or Bloody Mary during our Father's Day Brunch, and also a free draft beer at the Sunday Night BBQ. Well deserved, Dad!
Dining Reservations at (561) 395-2200 or reservation@rpycc.org
Continues in the Golf Shop

Who doesn't love summer sales? Stop by the Golf Shop for savings of 30% off almost all logo items, plus there are 50% and 75% off sale racks.

Monday, Wednesday and Friday
8:00 am - 12:00 pm

Book a relaxing massage with the Club's new massage therapist, Jenna Summer, by calling the Fitness Center at (561) 391-767.
Sunday - July 3
9:00 am - 11:00 am
On our Grass Courts
Wimbleton whites, please!
To register, contact Coach Craig at (561) 245-4503 or cwittus@rpycc.org.

Monday - July 4
| | | |
| --- | --- | --- |
| 9:00 am | | Golf Scramble |
| 11:30 am - 2:30 pm | | BBQ in the Palm Room |
| | | |
Please note that the Fitness Center will be open from 7:00 am - 12:00 pm, no group exercise classes will be held.
2016-2017
Definitions
Resident
Anyone whose primary residence is in Palm Beach and/or Broward County.
Non-Resident
Anyone whose primary residence is outside of Palm Beach and/or Broward County. Family Member-is defined as immediate family and parents, children, siblings, step parents, step children, in-laws (parents, sisters, brothers, etc.), grandparents and grandchildren.
Access
Resident Family Members and Resident Guests must be accompanied by the sponsoring member at all times. Members are responsible for the conduct of their guests and for guest fees and all related charges. Guests will conduct themselves in the same manner as members and adhere to club rules.
Unaccompanied Non-Resident Family Members and Non-Resident Guests must possess a Family Guest Card acquired by the sponsoring member. Family Guest Cards can be secured in the Executive offices and are the responsibility of the sponsoring member.
Privileges
Resident Family Member
A resident family member can use croquet, golf, tennis, and fitness facilities, and card and table games no more than twice a month from November 1-May 31 not to exceed 14 times in a calendar year.
Non-Resident Family Member
Are entitled to a Family Guest Card during the duration of their stay, not to exceed 30 days.
Non-Resident Guests
An accompanied non-resident guest can use golf, croquet, tennis, fitness facilities, and card and table games a total of 14 times from November 1-May 13, not to exceed 20 times in a calendar year.
Yachting Guest
A Guest Card may be issued to a visiting Yachting guest who is a member of Florida Council of Yacht Clubs upon presentation of evidence as to their membership in good standing in such club.
A Member must request a Yachting Guest Card for a guest who wishes to temporarily rent a vacated slip.
Guest with a Yachting Guest Card – Club Use
A guest must present his or her Yachting Guest Card and sign in at the Dining Rooms, Golf Shop, Sports Shop, Fitness Center, whichever applies, prior to each use of a facility.
2016-2017
Junior Palmers will be taught the fundamentals of tennis through fun drills with Coach Craig and his team.
For more information on Junior Palmer Tennis, contact Craig Wittus, Director of Tennis, at (561) 245-4503 or cwittus@rpycc.org
Tuesday - July 5
Due to the 4th of July Celebrations on Monday, the Club and the Golf Course will be closed on Tuesday - July 5.

July 7 - 15

This half day camp is for the Junior Palmer looking to take their game to the next level. Register today for limited engagement, action filled program.

July 25 - 29
Closing for five days July will allow staff the time to perform much needed processes.
Please continue to repair ball marks, fill divots, and obey all course signage so that everyone can enjoy their golfing experience at Royal Palm!
If you have a picture you'd like to share with the Membership for the Spars & Pars, please email Jennifer Newton, Communications Manager, at jnewton@rpycc.org. Send her the image and a short description and we will share it in the next issue of the Club newsletter.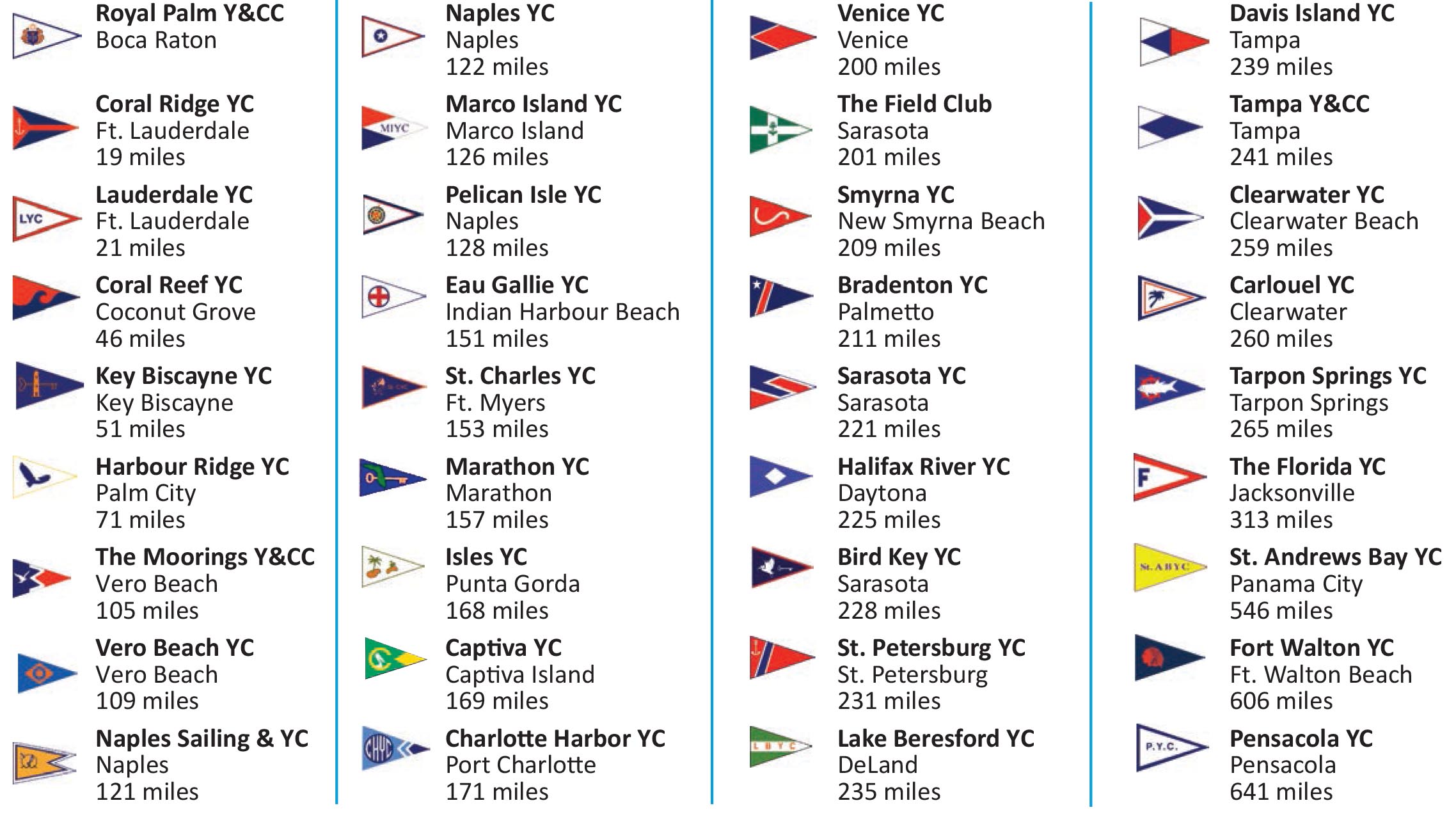 All FCYC sister clubs offer full reciprocity, year round, to Royal Palm Members. This includes dining, social and facility privileges with a complimentary first night's stay at the marina should you travel by water.
Personal Training
$70/30 minutes
$90/55 minutes
Yoga/Pilates
60/60 minutes
(Duet) $40/60 minutes per person
Pilates Training
$50-$60/30 minutes
$80-$90/60 minutes
(Duet) $60/60 minutes per person
The Women's Club is an organization whose goal is to entertain the Membership with a range of activities and programs.
Throughout the year, Women's Club coordinates and advertises activities such as: Art Classes, Luncheons featuring speaker and fashion shows, cooking classes and theater trips.
To Join: All that is required to join Women's Club is a minimal fee and a healthy appetite for adventure. Call the Royal Palm Offices at: (561) 395-2100. You can also visit the Women's Club Member Site at www.rpyccwc.com.
In appreciation for the reciprocal arrangement allowing members of the Hillsboro Beach Club to utilize our croquet courts during their renovation last summer, the General Manager, Susan Williams, has invited Members of Royal Palm Yacht & Country Club to the Hillsboro Beach Club as her guests this summer.

Members will have guest privileges to enjoy the beach and pool at The Hillsboro Club with the option of dining for lunch. Arrangements for access and reservations must be made in advance by contacting Kim Barahona or Marla Johnson at the Club at 561-395-2200.
For weekend visits, please call no later than Friday afternoon. Certain date restrictions, including holidays, will apply. Charges for lunch, if applicable, must be paid in cash or by credit card at the time of your visit.
Please note that The Hillsboro Club does not allow denim and has a strict, no cell phone policy.

We appreciate the hospitality extended to our Members by The Hillsboro Club and hope you will enjoy this new summer amenity.
Golf Shop: (561) 395-2202 • golf@rpycc.org
The women of the WGA keep and maintain their own, independent website! Click here to see the news, photos, and upcoming events. Click here to go to the Women's Club website, built and maintained by the ladies!
Yacht Club Enhancement Project


Golf & Croquet


Dining & Social


Marina


Tennis


Wellness


Youth


Thursday - June 16
Friday - June 17

Saturday - June 18




Adult Tennis Clinic



Adult Cardio Tennis Clinic



Sunday - June 19

Monday - June 20

Tuesday - June 21


Father's Day Brunch Buffet
& BBQ Dinner


Golf Course Closed




Wednesday - June 22

Thursday - June 23

Friday - June 24








Adult Tennis Clinic

Saturday - June 25

Sunday - June 26

Monday - June 27

Adult Cardio Tennis Clinic
Team Tennis Clinic
Junior Tennis Clinics
Junior Golf Clinic





Club Closed